Pentacle Wood Altar Table Carved pentacle altar table is great as a small shrine or as a statue stand.
Pentacle Wood Altar Table by Om Imports
This carved pentacle wood table is hand made in India and is a roomy 12 x 12 inches square and 7 1/2 inches high on turned wood legs. Great as a statue or altar stand, portable altar, and so much more! It is the perfect height for meditation on the floor or a cushion. Can also be used on top of another table to serve as a shrine for your favorite statue.

Hand made items may vary slightly.
Item Number:
OI-TBL22 |
Approximate Size (Inches):
12.00 wide x 12.00 deep x 7.50 high |
Approximate Shipping Weight:
4.00 lbs.
Recommended accessories
Tiles are usually placed on a Wiccan altar to act as a focal point for e..
$6.00
---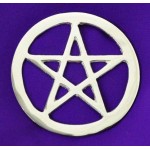 This cast aluminum altar paten is silver plated and features a open pentacl..
$13.50
---
This pentacle candle holder, carved with Celtic knotwork as well as traditi..
$18.00
---