Covid-19 Info: We appreciate your support of us and other small businesses and are committed to keeping our staff and customers healthy and safe during this difficult time. Please expect delays in shipping and restocking. See updates on issues caused by the Covid-19 Pandemic here and our company Facebook Page.
Article Search
Articles meeting the search criteria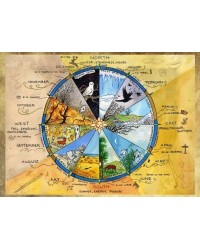 One of the greatest summer pleasures of my youth was taking a drive with my parents and brother through the August countryside, stopping for fresh produce the farm families sold at the roadside for what seemed like spare change. Produce on the vine in the morning came fresh to the table in the evening. Nothing else tastes quite so sweet as that first taste of the first harvest from the fields of your homeland.When I first began doing research for the book that would become The Sabbats: A Witch's Approach to Living the Old Ways, I was astounded to discover that both the autumnal equinox as well..
What is Mabon?One of the minor Wiccan and Pagan holidays (or sabbats), Mabon is also known as the Autumn Equinox. It is the second of the 3 harvest festivals (with Lughnasadh and Samhain) when the earth is cooling from the heat of summer and the crops are being harvested and stored for the coming winter.Like the Summer Solstice, day and night are of equal length but after Mabon, the night becomes longer for the dark half of the year.Think of Mabon as the Thanksgiving for pagans. It is a celebration of the Earth's bounty and the first step to prepare for winter which in many parts of the world,..
Showing 1 to 2 of 2 (1 Pages)