Covid-19 Info: We appreciate your support of us and other small businesses and are committed to keeping our staff and customers healthy and safe during this difficult time. Please expect delays in shipping and restocking. See updates on issues caused by the Covid-19 Pandemic here and our company Facebook Page.
Article Search
Articles meeting the search criteria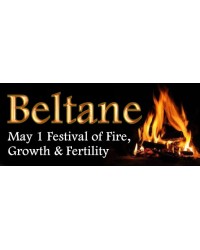 Beltane honors life at the peak of spring and the start of summer. The Goddess is celebrated as the Maiden and the May Queen at the peak of womanhood. The God as the Oak King courts and mates with her bringing fertility to the Earth. It is a night of passion, sensuality, vitality and joy. It is the time of the year to celebrate new ideas, hopes, and dreams putting them into action. Symbolically planting a seed or tending a garden is a wonderful activity recalling the crops of our ancestors and encouraging growth for any venture.

Showing 1 to 1 of 1 (1 Pages)