Covid-19 Info: We appreciate your support of us and other small businesses and are committed to keeping our staff and customers healthy and safe during this difficult time. Please expect delays in shipping and restocking. See updates on issues caused by the Covid-19 Pandemic here and our company Facebook Page.
Article Search
Articles meeting the search criteria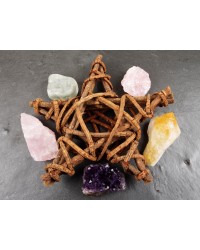 With the rise of eclectic, do-it-yourself Wicca, traditional varieties quickly took a backseat. In many books, the old lines are discussed in the past tense. And with the emphasis on secrecy, it's no surprise that many traditional Wiccans never reveal themselves in any public way. A lot of people think we just aren't around anymore! But, in fact, our numbers are rising.
Traditional Wiccans usually aren't very vocal but don't make the mistake of assuming we aren't there.

Showing 1 to 1 of 1 (1 Pages)