Tree of Life Sterling Silver Earrings Connecting Mother Earth with all things above and below, the Tree of Life is an ancient symbol of connection.
.925 Sterling Silver
Height: 1 1/4 Inches
---
---
Tree of Life Sterling Silver Earrings by
Peter Stone Spiritual Jewelry
The Tree of Life symbolizes the never ending cycle of all living things. With its branches reaching for the perpetual sky and its roots buried deep in the nurturing earth, the tree of life captures the connection that all living creatures have with each other and with Mother Earth.
Meticulously crafted from fine sterling silver, the Tree of Life Silver Earrings are the perfect symbol of the continuity of life, inspiring all who wear it to appreciate this delicate balance. They are 1 1/4 inches high with sterling silver ear wires.

Item Number:
PS-TER060 |
Approximate Size (Inches):
0.65 wide x 0.01 deep x 1.25 high |
Approximate Shipping Weight:
0.25 lbs.
Goes Great With...
The sacred tree or Tree of Life represents the fruitfulness of the earth, e..
$20.00
---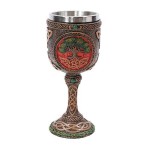 Beautifully detailed cold cast resin chlice has Tree of Life and Celtic Kno..
$22.00
---