Cast Iron Witches Cauldrons - Food Safe atAll Wicca Magickal Supplies
---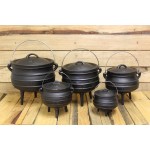 Cast iron cauldrons are traditional spiritual tools with the pot-belly shape representing the Womb of Mother Earth or Cauldron of Creation containing the primordial power of all life.
Many cast iron cauldrons sold for Witchcraft and ritual use are not food safe - their cast iron might contain impurities you should not use for anything that is going to be ingested. This section contains cast iron witches cauldrons (also known as Potjie [Poe-key} Pots) which are 100% food-safe without those harmful metals and toxins. Each is carefully created for spiritual use as well as cookery.
These cast iron cauldrons are pre-seasoned with flaxseed oil (they come with care instructions and how to re-season them if needed). You can use them to safely stew and brew any potions to be ingested or your favorite meal for a magical dinner. Simmer with herbs to make infusions for natural healing or magical potions. You can also light fires within them to use for burning petitions and spell papers or as an extraordinary fire pit.
Our cast iron cauldrons come complete with lids and handles in the traditional and iconic potbelly shape (which is also great for evenly dispersing heat). Feed your family or your Witch's soul with our cast iron witches cauldrons.
---
---
Showing 1 to 20 of 20 (1 Pages)