Tumbled & Polished Gemstones atAll Wicca Magickal Supplies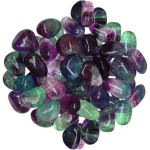 Our selection of tumbled and polished gemstones are genuine gemstones cut and polished or simply tumbled to a smooth finish that feels great in the hand. Wonderful to meditate with, use in spells or rituals or in crystal grids to activate the natural energy these fabulous crystals and stones possess.
See our Magical Properties of Gemstones for an ever-growing list of the benefits of healing crystals.
---
---
Showing 1 to 23 of 23 (1 Pages)