Smudge Sticks and Supplies atAll Wicca Magickal Supplies
---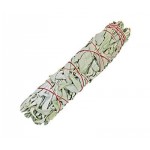 Smudge sticks are a collection of dried herbs tied into a stick shaped bundle that have been used for hundreds of years to clear negative energies from people and places.
The herbs are lit during a ritual or ceremony smoldering while producing a fragrant, sometimes thick smoke that will seep into every pore and crevice to chase away undesired energies. It is often used before rituals to cleanse the Sacred Space and ritual participates and can also be used to cleanse a new apartment or home (though watch out for smoke detectors when using indoors!).
All our smudge sticks are hand gathered and tied made from the purest herbs we can find.
---
---
Showing 1 to 23 of 23 (1 Pages)