Jewelry atAll Wicca Magickal Supplies
In This Category:
---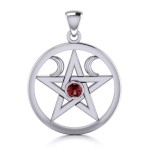 Wiccan designed jewelry is a lovely way to express your personal belief and practice.
Ritual jewelry has been worn for centuries and is very popular today with Wiccans and other Pagan practitioners. Our online jewelry store has a huge variety of jewelry for you to choose from including pentagrams, amulets, talismens, protection evil eye jewelry, with or without gemstones. 
Shop our jewellery collection in sterling silver, copper, solid gold, bronze, pewter and more from affordable jewelry to crystal jewelry and fine jewellery. We work with a number of artisan jewelers to produce sustainable jewelry from around the world. We also create unique and custom pieces in house from time to time - be sure to check our one of a kind and custom jewelry section at our sister site, JewelryGemShop.com. 
---
---