Gem Water Bottles & Accessories atAll Wicca Magickal Supplies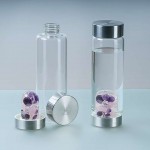 We all know that the human body consists mainly of water. Water is the elixir of life, one of our most valuable resources. Nothing impacts our well-being more than the quality of the water we drink. If you had the choice between regular tap water and fresh spring water, what would you choose?


Scientists agree that consuming plenty of pure and healthy water slows down the aging process, assists in weight loss and noticeably increases our quality of life!

The use of gems to vitalize water is a traditional art which was already known to the ancient Greek and wise men and women during medieval times.
Recently, this old tradition has been rediscovered. Gemstones have the ability to store energy. That effect makes quartz watches work, for example. Each type of gem, by nature, has its unique kind of energetic information.
The gems inside the VitaJuwel vials transfer their information to the water that surrounds the vial and, thus, improve the waters' vitalization level. An effect which regular water drinkers might even be able to taste!
Choose the gemstone combination for your specific needs and enjoy the health benefits without any of the worries of putting gemstones directly in water. The gems are sealed in hand blown lead-free glass keeping your water safe from possible impurities of contaminated gemstones or the possible deterioration of gemstones that adversely react with water.
For the most benefit, use the clearest, purest water you can find - filtered or spring water is recommended. Bonus! Using a refillable glass bottle reduces your carbon footprint by eliminating plastic water bottles.

---
---
Showing 1 to 12 of 12 (1 Pages)